Thermafoil® NTC (Negative Temperature Coefficient) Thin-Film Heating System
Precise Control and Temperature Uniformity Up to 500°F
Thin, flexible, lightweight and durable, EGC Thermafoil® NTC provides excellent in-plane thermal conductivity coupled with increased surface coverage. Easily zoned within a single element, it can offer varying temperatures to meet precise application requirements. What's more, when combined with Thermafoil NTC's unique control methodology, it eliminates the need for ancillary sensors, such as thermocouples, RTDs or thermistors. Current and voltage is monitored through proprietary software.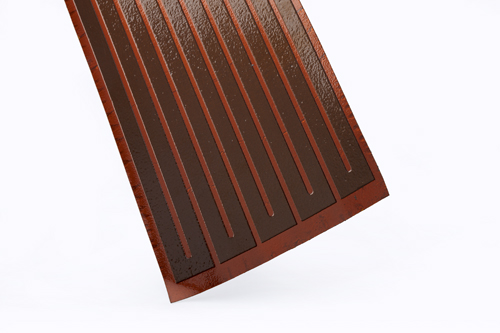 Temperature uniformity within +/- 2%
Temperature capability up to 500°F continuous (550ºF intermittent)
Sizes from 2 sq. in. to more than 100 sq. ft.
Energy savings results from ability to cycle rapidly, efficient thermal transfer and ability to reduce system mass
Rapid thermal response
Thin and lightweight
Variety of application techniques from peel-and-stick to clamped to over-molded within plastic or rubber
Available with EGC NTC sensorless control system
Excellent for a variety of industries and hi-temp applications, including:
Food service – cooking, warming, and holding
Packaging equipment – wrapping and heat sealing
Aviation, building and construction – de-icing
Large surface areas – griddles, presses and tables
Check out our other thermal management solutions, too. Or just contact us at 440-285-5835 or egc@egcgraphite.com, and we'll review them together.
Ready to talk?
Call us at 440-285-5835, email us, or click below. Together, we can develop a fluid sealing or thermal management solution to meet your explicit needs. And possibly even some you haven't even realized.