Laminating
EGC-engineered graphite laminates are designed to increase strength, enhance durability, and improve seal performance.
Creating a laminated product takes a keen understanding of equipment and process parameters. It requires bonding itself to similar laminates or other materials like foils, polymers, and elastomers. It's choosing a pressure sensitive adhesive for just the right amount of grip; or it's choosing an adhesive that is fully carbonized after curing and eliminates unwanted elements and volume loss when high temperatures exist.
It's a mix of technology and craftsmanship that together allows EGC to join large sheet materials for products like gaskets; seal rings; heating elements; continuous, on-the-roll lamination for high-volume applications; and Thermacord graphite yarn for braided packing.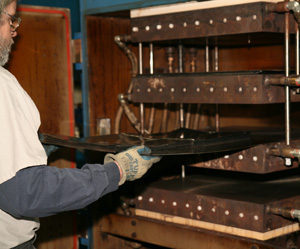 Ready to talk?
Call us at 440-285-5835, email us, or click below. Together, we can develop a fluid sealing or thermal management solution to meet your explicit needs. And possibly even some you haven't even realized.