Successful operation of power plant maintenance and subsequently bringing operations back online on schedule during outage season is critical. During this time, valve technicians are busy inspecting, removing, repairing and re-installing process equipment. Industry challenges with valves in service are often galled metal seals, steam cuts and out-of-round valve bodies and bonnets. Replacing the pressure seal with a new metal seal oftentimes includes valve bodies needing to be machined, welded and resurfaced in order to provide a suitable sealing surface, which is both costly and time-consuming.
Utilizing VSG Pro graphite pressure seals greatly reduces the need for lengthy maintenance and repairs due to its ability to conform to out-of-round conditions, and fill steam cuts. Additionally, graphite seals are easily removed and replaced during preventive maintenance cycles, shortening time out-of-service. Constructed of high-density Thermafoil® Flexible Graphite and heavy gauge stainless steel top and bottom anti-extrusion, the EGC VSG Pro pressure seal provides the ultimate rugged performance in extreme environments.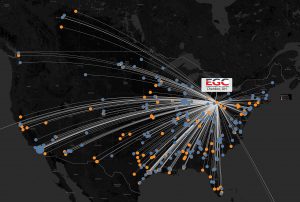 EGC  understands the importance of successful and timely completion of outage season maintenance. EGC VSG Pro graphite pressure seals can be found in valves throughout the world; from combined cycle, fossil fuel, nuclear power generation, petrochemical and refining industries, our seals are providing solutions to many unique facilities and applications. Over the past five years, EGC has delivered over 7,000 pressure seals to facilities in over 300 U.S. cities in 42 states, and more than ten different countries worldwide.
Our proprietary manufacturing process allows the rapid production of many VSG designs in less than 48 hours standard lead time. For an additional fee, we also offer Fast-Track™, an expedited delivery service that offers next day, same day, after hour and weekend/holiday delivery options. We are committed to supplying custom graphite gaskets, packing sets and pressure seals that are specifically designed for peak performance.
How can we help? Download our Thermafoil® Graphite Pressure Seal Data Sheet, fill out your valve dimensional data, and, together, we can develop a fluid sealing solution to meet your application requirement that will put you on the map!