Compression Packing applications, from small space to outer space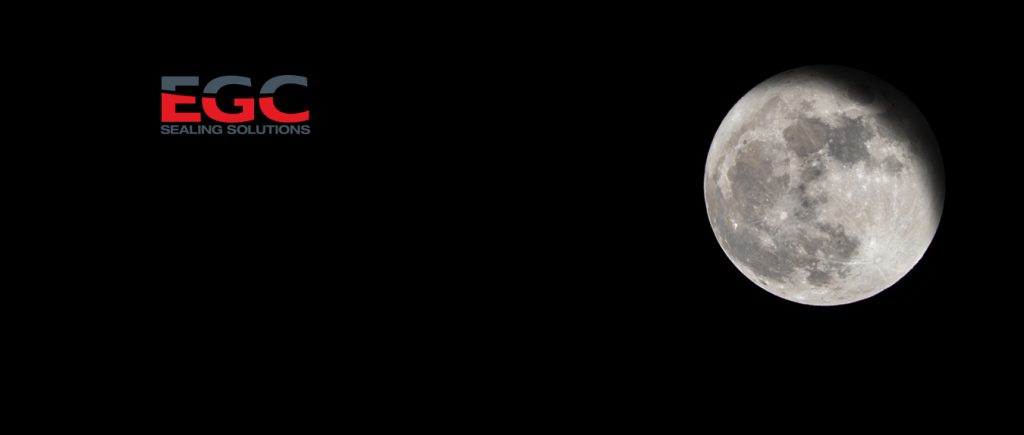 In our previous article, we discussed the origins of compression packing, materials, and processes used in its manufacture and important considerations when choosing packing. As we noted there, compression packing is an incredibly versatile sealing solution. Here, we look at a range of applications for compression packing that showcase its versatility.
Graphite and Wire mesh for exhaust systems – EGC die molded configurations of flexible graphite, mica or vermiculite densifies well when loaded in these flange couplings to seal truck & auto emissions prior to being cleaned by the after-treatment and catalytic scrubbing systems. Due to the high vibration nature of these applications, wire mesh is used in combination with the sealing material to provide a skeleton giving the sealing material a structural component to add durability.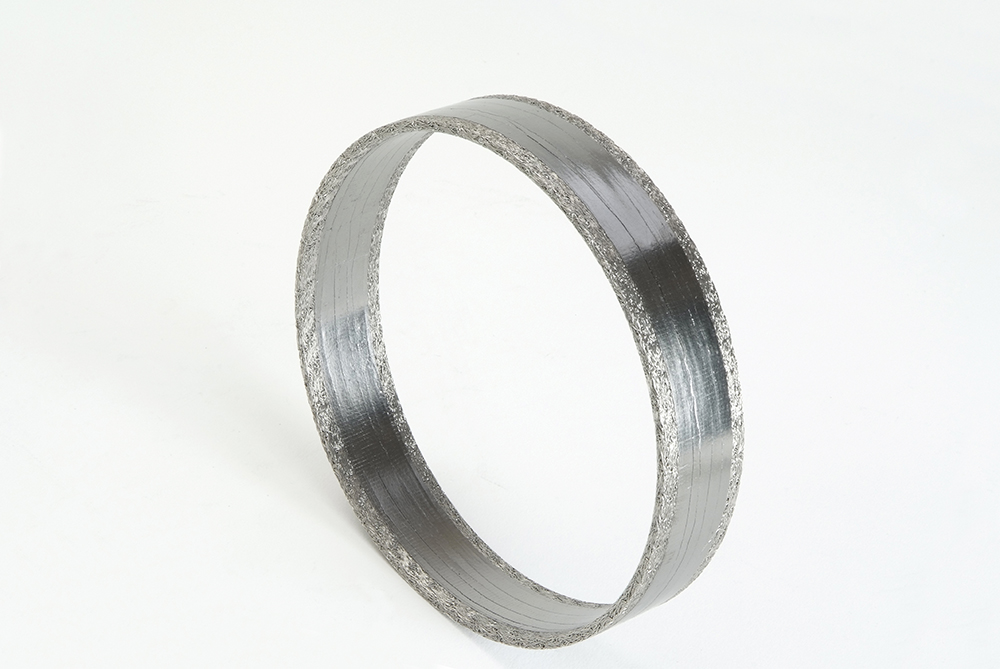 Figure 3. Die Formed Wire Mesh Reinforced
VSG and VSG Pro
There is no one else in the world that can engineer, manufacture and ship a pressure seal in as little as a single day. EGC can meet the demands of the power plant rebuilders getting the facility back online, right away. It's made of high-density graphite which means that it's resilient and seals every time and rebounds after every cycle. It's compressible and conformable and works in out-of-round, oversize, steam cut and pitted valves. And it will never fuse to valve components. In studies for valve maintenance, you can save nearly 75% installing graphite over metal. It is the fastest pressure seal on the planet.
Metal Caps for pressure seals – In the typical stem packing in a valve stuffing box, the high axial to radial load transition of a die molded configuration from the gland load creates the seal around the stem. Bonnet pressure seals were originally designed to be made of solid metal and relied on process pressure to effectuate a seal. The all-metal seal utilized the angle of the bonnet to amplify the unit load on the toe creating a single point metal to metal seal. More recently, EGC engineers found a way to use the high axial to radial load transfer of die molded flexible graphite to create a full cavity seal. However, they had to find a way to keep the graphite from extruding under high unit loads. The most common way was to place a thin cap on the top and bottom of the seal. As opposed to a full metal ring sealing only at the toe, and having a potential to damage the valve, the packing-style die molded graphitic seal fully compresses and densifies to fill and seal throughout the entire bonnet cavity. See Figure 4.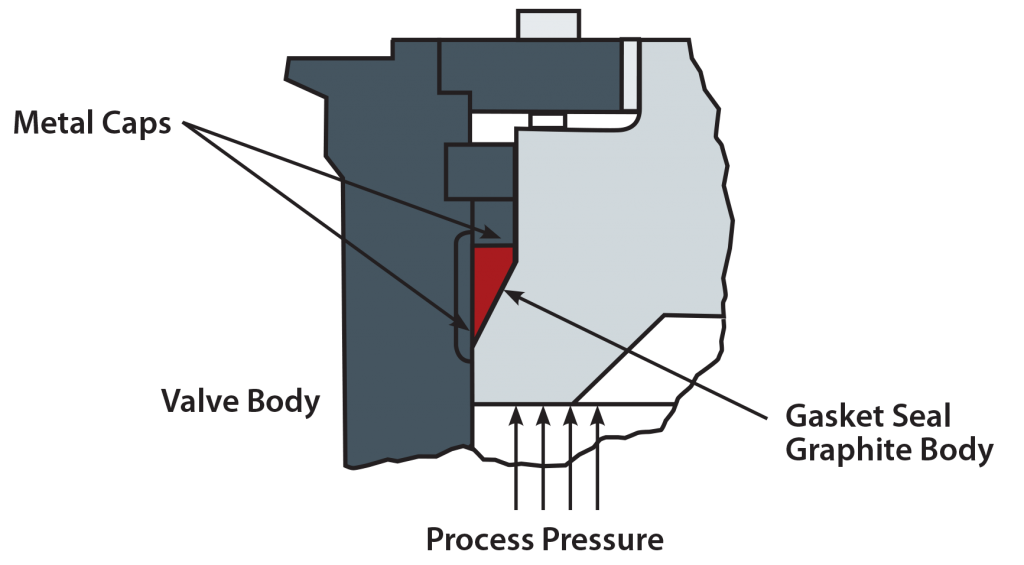 Figure 4. Metal Caps for pressure seals
Most of these pressure bonnet valve configurations are found in power generation facilities, and in today's environment, these plants are on-demand requiring their units to cycle in pressure and temperature frequently. The unique capability of the die molded flexible graphite to remain resilient at ambient and high temperatures serves this application well, without causing undue wear to the valve itself. These valves can be expected to be in service for over 50 years.
Valve Balance Seal – Balance seals are very similar in nature to stem packing in a rising stem valve. See the illustration in Figure 5. They provide both an inside and outside diameter seal for a linear motion device and use axial load to compress the seal. It is typical to see a wire reinforced ring on the top and bottom to provide anti-extrusion and wiping just like a valve packing stuffing box. However, an EGC Balance Seal is designed into a closed cavity configuration which does not allow for adjustments to be made while in service. In some cases, the design requires that the packing leaks to some extent.
Friction is the biggest problem in high-temperature control valves. Typically, the balance seal ring is unloaded while it moves up and down. When it hits bottom it needs to seal. Most recent designs have a fixed seal even while the plug is moving up and down within the cage. But EGC's design is different. When the valve opens, friction is reduced. The stem will begin to rise and unload the seal ring while taking the pressure off the side walls.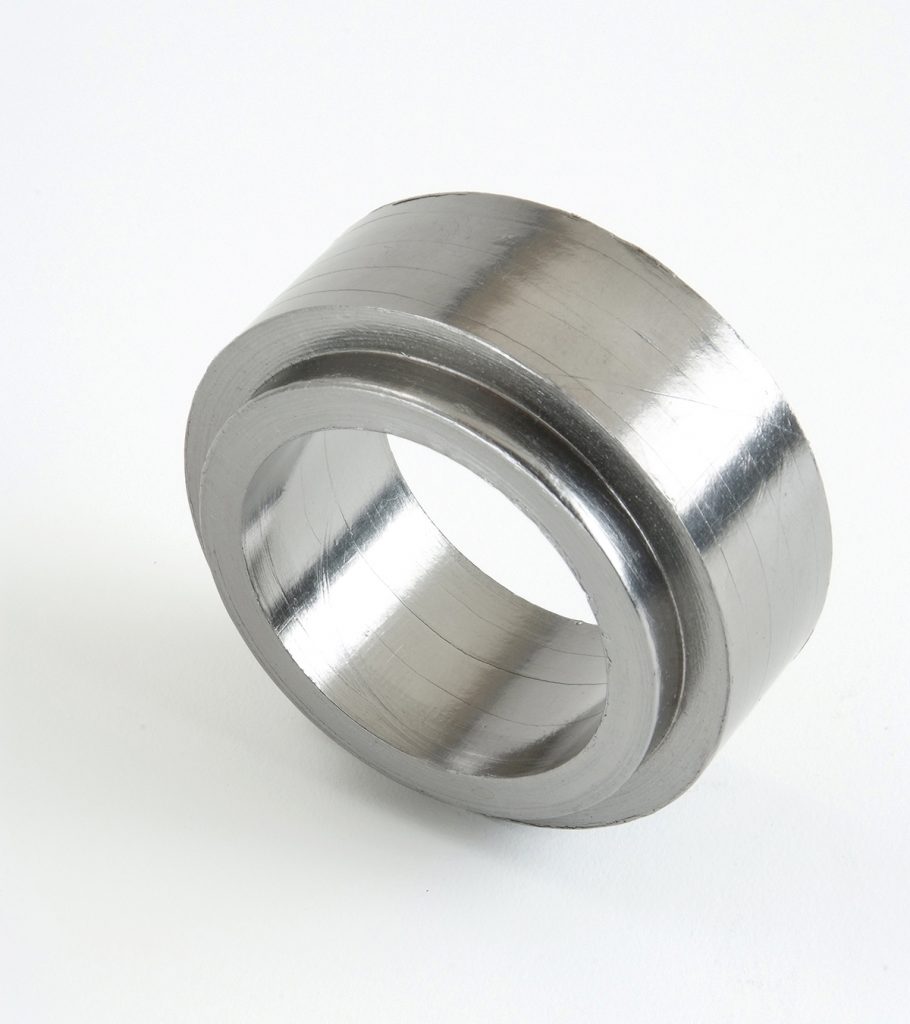 Figure 5.  Integrated Stem Wiping System
Dry Bulk handling systems – Dry Bulk piping systems use EGC braided configurations of flexible graphite or glass fibers as well as some polymers to create a seal between the pipe connections. Unlike high-pressure liquid or gas piping systems that utilize flanges for flat gaskets to connect the joints, these systems utilize the axial to radial load transfer that is inherent to braided packing in order to seal the joint as well as create a solid connection.
Die Cut and Coined Parts – These highly engineered parts from EGC are typically more expensive than a standard die formed or braided packing, but they have significant advantages. EGC was the first to create the design and it can save the actuator. This type of inside and outside diameter sealing device is pre-compressed to a high density, (Figure 6.) It does not exert the same axial to radial load transfer experienced with other designs. The low axial to radial load transfer reduces the amount of friction caused by the packing set as well as the amount of compression required to create a seal. In other words, you get less stem area friction compared to a standard design. These types of sealing devices are typically used in small instrumentation devices.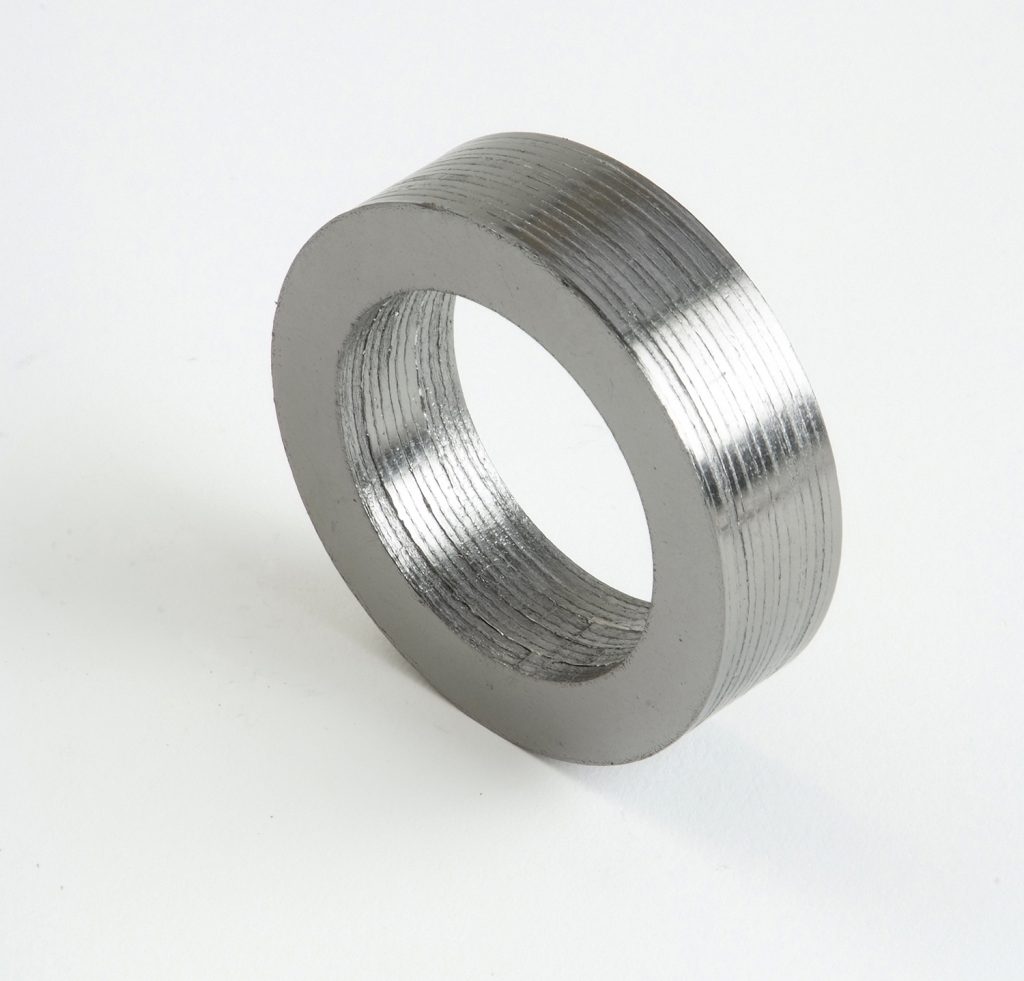 Figure 6. Die Cut and Coined Graphite Ring
Clamped Joints – EGC Strap and V-Band style clamped joints can also many times benefit from the use of die molded packing style seals. The seal used in these configurations also typically provides structure for the joint as well. It keeps the piping from separating or rotating during high vibration operation and thermal cycling. These packings, in some cases, can be made in a composite construction of both molded sealing material mated with metal components. The metal components can then serve as a portion of the clamped joint to achieve weight, cost savings, and ease of assembly.
Exhaust Manifold packing – Some sealed joints move with much smaller travel than typical valve stem packing, but with much higher frequency, vibration and temperature. EGC exhaust manifold slip joints sometimes utilize molded packing made from high-temperature materials like flexible graphite and ceramics to keep soot, fuel, and exhaust from escaping. This is a very challenging configuration for packing since slip joints have a great deal of clearance to allow for thermal expansion, and experience extreme temperatures approaching 1900F while operating in a very high vibration environment.
Aerospace packing – Many don't know that high temperature molded packing materials such as flexible graphite also constitute an excellent sealing material in cryogenic conditions. For example, EGC seals for the interconnects of fuel lines for the engines used to propel rocket launch vehicles are sometimes made using die molded flexible graphite.  These packing style components are required to survive at a chilly -423°F and seal products like liquid hydrogen or oxygen. These are indeed unique applications.
Need More Information?
To learn more, visit our main website

EGC Enterprises Inc.
140 Parker Court
Chardon, OH 44024
Phone 1-800-EGC-0211 (U.S.A. only)
or 440-285-5835
Fax 440-285-8337
Email | egc@egc-ent.com