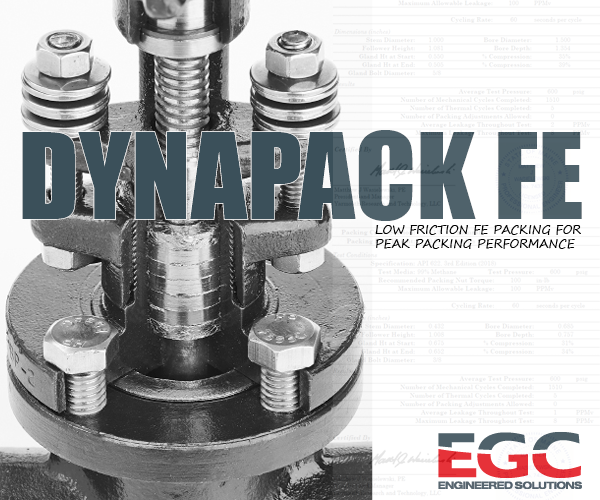 Introducing Dynapack FE, EGC's latest advanced, low-friction, reduced torque fugitive emission packing set.
Not your standard packing. Designed for peak packing performance in the refinery, chemical and petrochemical industries, DynaPack FE is certified to API 622 3rd addition (1/8″ and 1/4″), by Yarmouth Research & Technology, LLC. DynaPack FE boasts at least 30% reduction in packing nut torque and 30% stem friction reduction over competitive fugitive emissions packing offerings.
Key Benefits 
Certified to API 622 3rd edition (1/8" and 1/4") by Yarmouth Research & Technology LLC
At least 30% reduction of packing nut torque versus competitive FE packing offerings
At least 30% reduction in stem friction
Live loaded design
More consistent performance in the shallow stuffing boxes of 1/4" turn valves
Average weight loss of less than 1% at 800°F
The reduced friction and torque requirements provided by DynaPack FE offers reduced cost savings within the total valve design package, while still maintaining optimal system performance.
Learn More 
Contact us for more information about DynaPack FE.